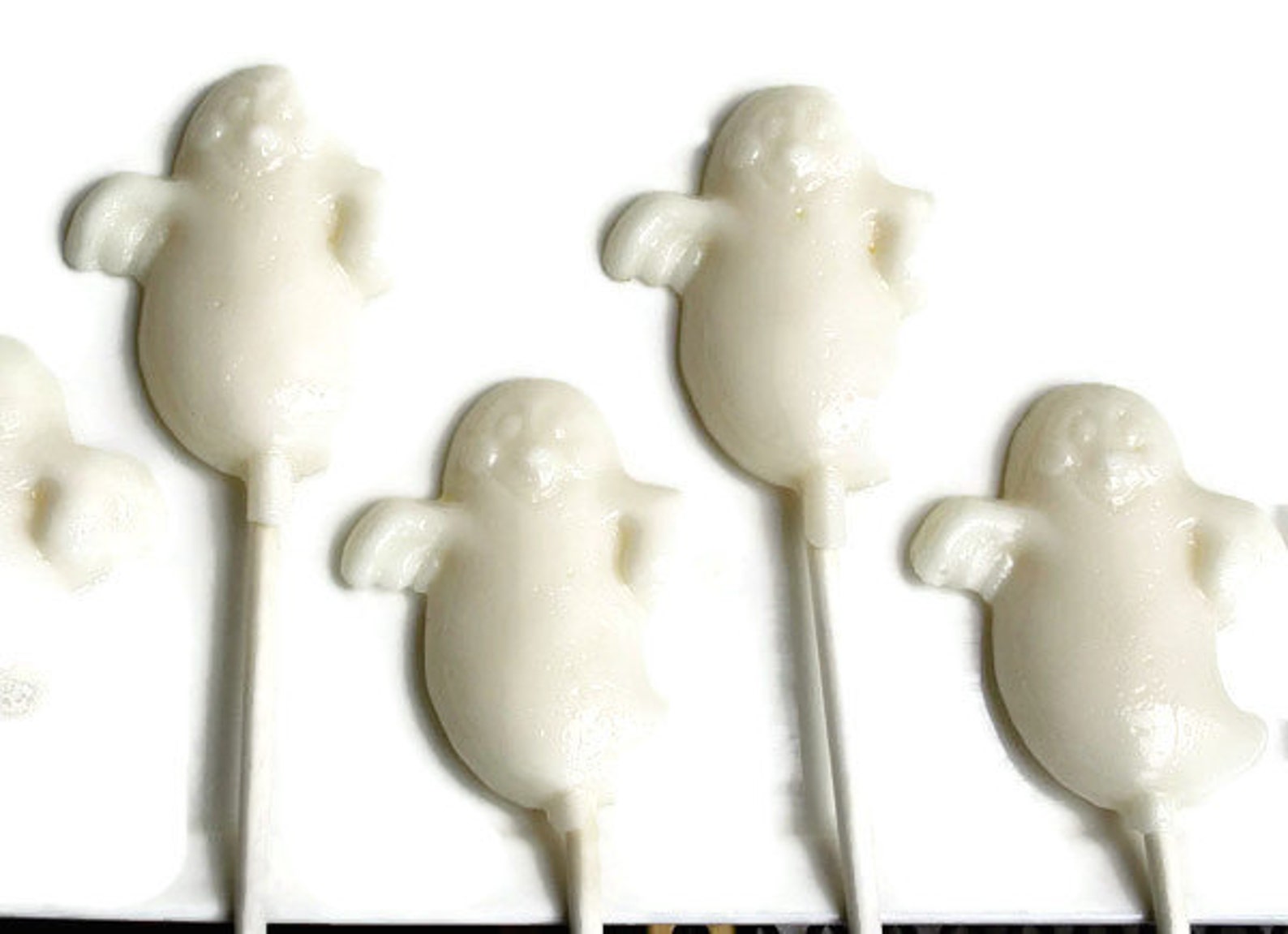 Halloween Ghost Lollipops – White Peppermint Flavor Hard Candy- 6 Lollipop Pack
You couldn't ask for a more perfect party favor for your Halloween festivities than these Boo-spectacular Peppermint Ghost Lollipops!!
Each lollipop measures about 2 inches tall and is hand made from scratch. We use only the best ingredients and the highest quality flavor oils and food coloring, to ensure the best tasting candies.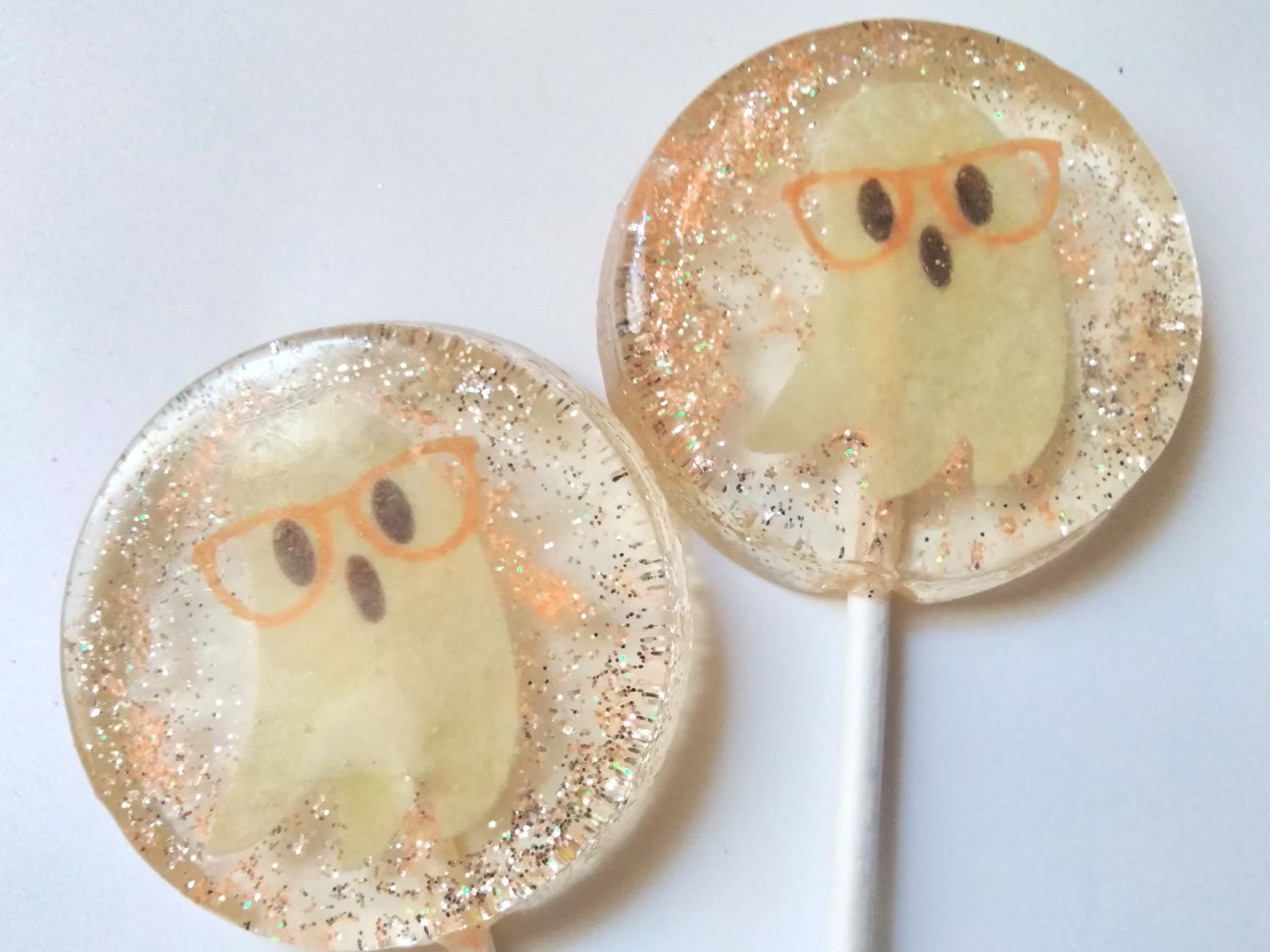 Halloween Party Favor Lollipops, Ghost with Glasses Lollipops Set of 6 Edible Image Lollipops
These super cute nerdy ghost lollipops would make the most eye-catching and fun party favors for your Halloween wedding or Halloween party. Your guests will delight in the uniqueness and wonderful taste of these fabulous favors! Or, use them any other day of the year as their fun design will never go out of style.
* Each image is 100% edible, using edible ink on edible sugar paper, which is encapsulated inside the lollipop.
* Available in 2 sizes – Medium size – 1.5 inches, perfect for anyone's bite AND Large – 2 inches wide, for a more dramatic and fun look!
* Lollipops include free individual wrapping and matching curling ribbon. Upgrade to matching satin ribbon for an additional $.10 per lollipop!
Available in the following flavors:
Almond
Apple
Blueberry
Coconut
Cotton Candy
Champagne
Peppermint
Strawberry
Vanilla
* You will receive 6 Halloween Ghost with Glasses Party Favor Lollipops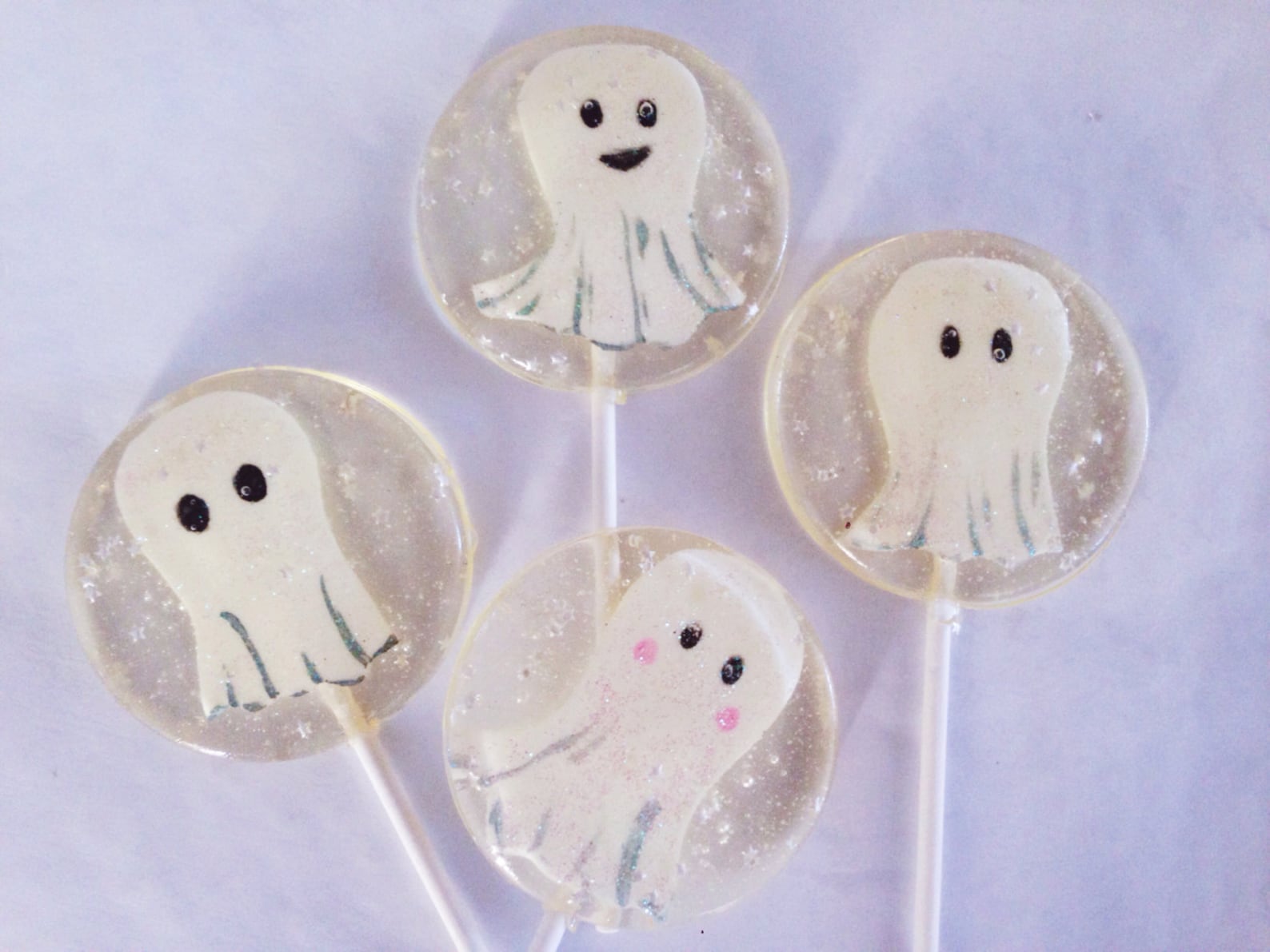 3 Marshmallow Flavored Sparkly Ghost Halloween Party Favors Lollipops

The order is for three handmade to order 3″ marshmallow flavored lollipops with hand painted and cut fondant ghosts floating about. The ghosts are sparkling with lots of iridescent edible glitter and they're surrounded in edible silver glitter stars. These were inspired by funny sheet ghost costumes! Boo!!
You will receive three different little ghosts. If you would like specific ones, please send me a convo. Each lolly will come individually wrapped, branded, and tied with a satin bow.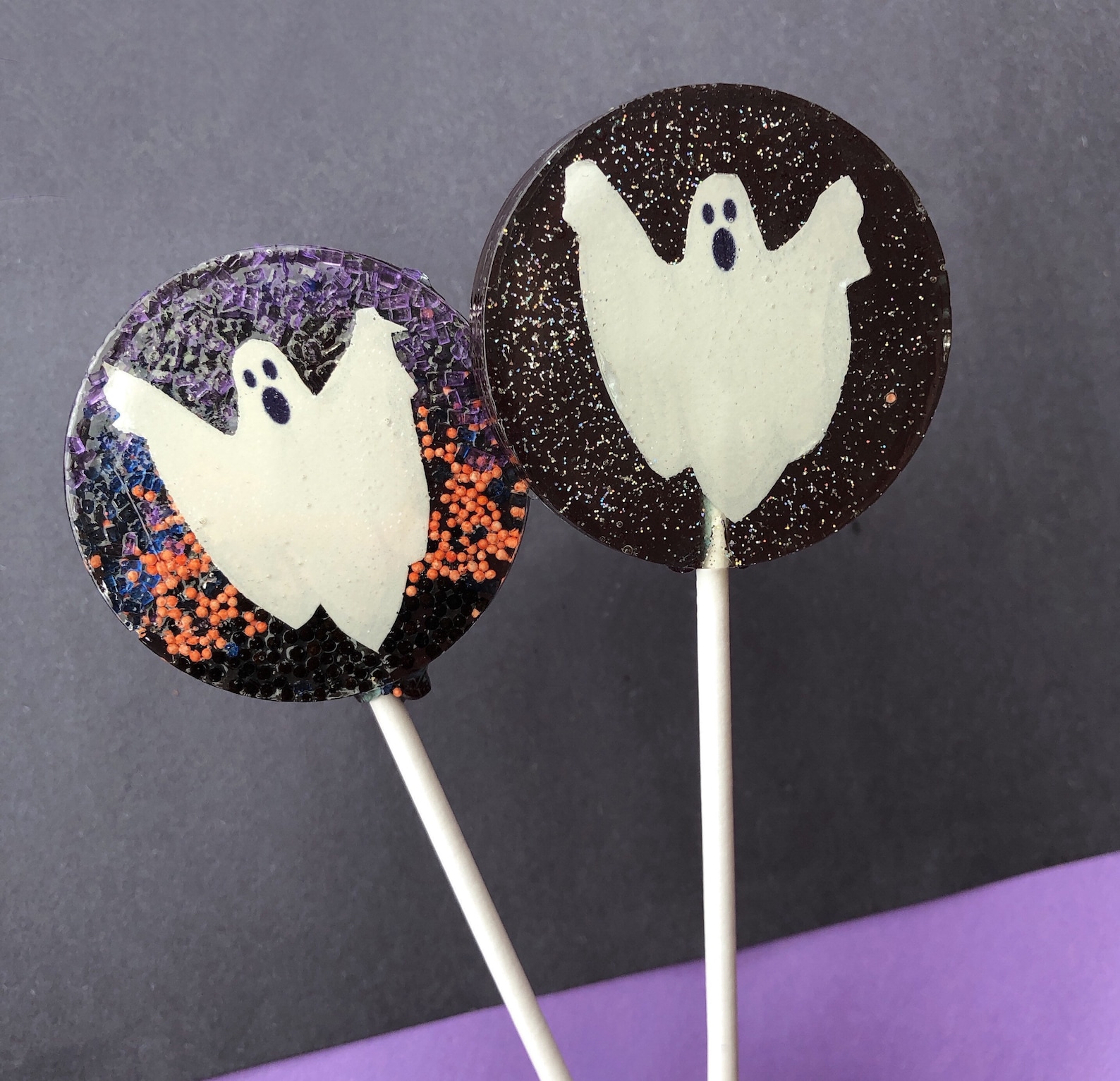 Ghosts lollipops party favors, spooky themed lollipops
THIS LISTING IS FOR 6 LOLLIPOPS.
keep your little ghouls and goblins happy with these fantastic ghost themed lollipops. The image is edible and the back comes in black and edible silver glitter and black, purple, orange and blue sugar sprinkles.
Perfect to hand them out to trick-or-treaters or use them as sweet treats in a candy buffet at your Halloween party.
****Be advised that flavors: Cranberry, Orange, Amaretto, Banana Cream, Pistachio tend to stain the hard candy in a yellowish color, nothing ugly and yet they are delicious and totally recommended if you want to try them****
-This listing is for 6 lollipops. You will receive 3 lollipops of each design. For other quantities or special orders please contact me, I will be happy to assist you with your order.
💖 Welcome to Candy Dulce, where I blog about anything to do with candy. I have a curiousity about new candy on the market and what candy manufactures do for holidays. It's fun to see the colorful packaging that comes out during these times and I think they speak to our inner child; at least to mine it does. Please join this journey with me and enjoy the content! – I try to post when I can, so… Welcome!