Gummi Brains, 2.2 lb Bag in a Gift Box
Corn syrup, sugar, gelatin, sorbitol syrup, citric acid, invert sugar syrup, modified corn starch, pectin, natural & artificial flavors, corn starch, coconut oil, palm oil, palm kernel oil, carnauba wax, beeswax, sodium citrate, red 40, blue 1.
The Gummy Bear Guy | World Famous Gummy Bears (TM) | Gummy Brain | Tropical Fruit
These are The Gummy Bear Guy's original GUMMY BRAINS made from his original molds.
Gummy Brains Candy (2.2 Lb Bag)
Bulk Unwrapped Gummy Brains Candy (2.2 LB Bag )
Gummy Brains are soft, chewy candy shaped to resemble brains.
Made with fruity jelly filled center with an outer layer of soft strawberry flavored brain matter.
Perfect For Party Bags, Gifts, Hostess Table or to Simply Enjoy
Arrives Factory Sealed Bag Approx 125 – 132 Pcs
Gummy Brain- A Delicious and unsettling Candy Cerebrum.
Use your noggin and make the smart choice for your next sugar high by picking the Gummy Brain.
This pink matter might not appeal to Hannibal Lecter's taste, but with each bite packing a blast of delectable fruit punch, we know it will delight all of you non-cannibals.
The Gummy Brain is the perfect conversation-starter for your next party. Or you might just be able to use it to slip past a horde of brain-hungry zombies. But however you enjoy it, at nearly four pounds and more than 4,000 calories, the Gummy Brain is a creepy and shareable treat!
Features & specs Highly detailed brain-shaped gummy Approximately 4 pounds (1.8 kg) Flavor: fruit punch Made in the USA Over 4000 calories!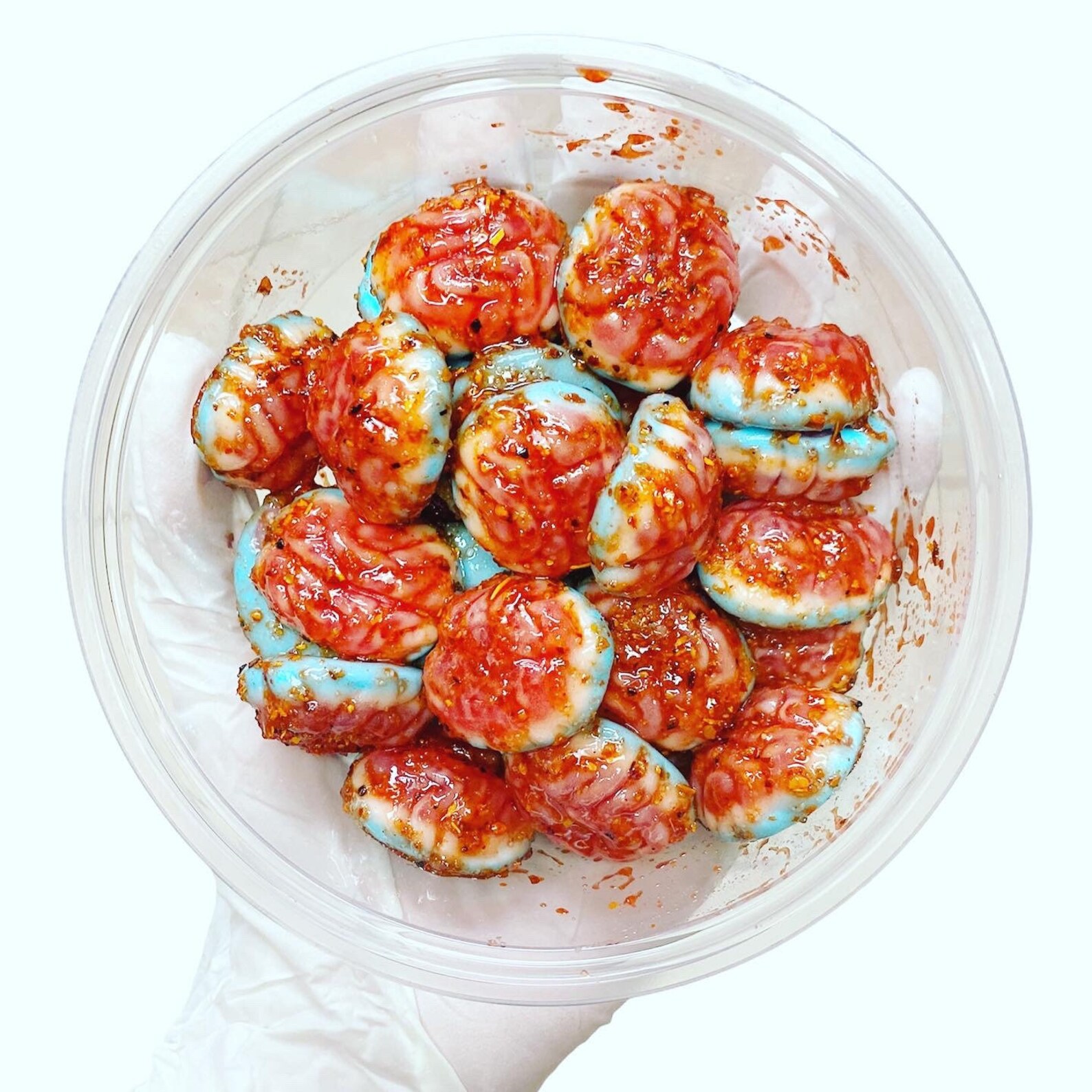 Chamoy Brains, Brain gummy, brain gummies
If you're a fan of Zombies or just enjoy grossing out your friends, these gummies are for you.
Gummies are mixed with Chamoy and spices.
3 sizes available.
💖 Welcome to Candy Dulce, where I blog about anything to do with candy. I have a curiousity about new candy on the market and what candy manufactures do for holidays. It's fun to see the colorful packaging that comes out during these times and I think they speak to our inner child; at least to mine it does. Please join this journey with me and enjoy the content! – I try to post when I can, so… Welcome!